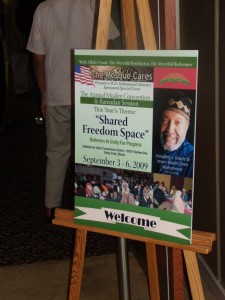 (My observations in the MJ's Oct, 23, 2009 edition): "Wonderful," said a member of The International League of Muslim Women, asked during an elevator conversation how she felt things were going. "Especially for the first year," she added. "We had a great teacher. And we learned our lessons well."
Hers was the overwhelmingly heard sentiment among attendees of The Mosque Cares 2009 Muslim Convention & Ramadan Session, at the Holiday Inn Select Convention Center in Tinley Park, IL.
The conference took place during the Labor Day weekend, a year after the eminent late Imam W. Deen Mohammed, founder of The Mosque Cares, passed from this life.
Yet in innumerable ways — including the "Shared Freedom Space" theme that echoed his very words — it was as if America's and the world's most profound contemporary Muslim leader had never left.
In fact, his spirit, his language and his wisdom were ever-present. And not just in the "Student of W.D. Mohammed" T-shirts that were a popular item for a Memphis, TN vendor, himself a longtime follower of the leader known as "the Imam."
Among the conference's unmistakable features, with which Imam Mohammed particularly would have been pleased, was the active participation of his young-adult students.
With poise, they handled prominent roles during the public address, Ramadan Sessions and workshops. Just as did long-established and beloved imams and others in the community.
For example there was the husband-and-wife couple who warmed the dining-room audience while hosting an iftar dinner. One could imagine the Imam smiling along with everyone else at their list of "10 ways you know you were raised in Imam W.D. Mohammed's community."
Such as: "You know you were raised in Imam W.D. Mohammed's community, if one of your masajid used to be called, 'Temple Number…' "
And, "You know you were raised in Imam W.D. Mohammed's community, if you hear at least three takbirs during your khutba." (That one brought a hearty "takbir" from someone in the audience — and rousing "Allahu Akbars" in response).
Also, "You know you were raised in Imam W.D. Mohammed's community, if your WD-40 is not just for cars."
And, "You know you were raised in Imam W.D. Mohammed's community, if your favorite childhood song was (St. Petersburg, FL, Imam Wilmore Sadiki's) 'I'm a Little Muslim Child.' "
And last: "You know you were raised in Imam W.D. Mohammed's community, if you can finish this sentence: 'We Cannot ____ ___.' " Naturally, the immediate response from every corner of the dining room was, "Stop Now!"
Earlier, Imam Safir Rabb II of Baltimore, one of the Imam's students who has studied in Syria, led the Salatul Jummah. Imam Rabb said during his khutba that for 33 years Allah had provided a repository of guidance, through the person He chose, from which we can quote to check whether someone is coming sideways or coming straight.
"We don't need anyone to come pretending they are deep," he said. Rather, "We need to move from conversation to operation."
He also questioned how someone could be a Muslim and not have a leader today, given that Imam Mohammed established that our leader is the impact of the Quran and Sunnah on our dynamic human soul.
Leadership is judged by what it produces, he added, and now it's showtime, time to show the world what we've got. Among other notable observations, Imam Rabb also commended the community for annually hosting the convention through which he met his wife.
Mujahiddeen Mohammed of New Jersey, another young adult student dedicated to the commentary of Imam Mohammed, conducted a workshop devoted to one of the Imam's major initiatives: maintaining interfaith communication.
A key focus of Imam Mujahiddeen's presentation, repeated in abbreviated form during one of the iftars, was the October 2008 Muslim Friends of the Focolare International Conference, which some 20 of us students of Imam Mohammed attended in Rome, Italy.
One thing he humbly did not mention is that while there, we almost invariably had him lead our prayers, out of proud recognition that such students of the Imam represent our future.
Other notable convention presenters included Intisar A. Rabb, Esq. The assistant professor of law at Boston College Law School also is Imam Rabb's sister, who has studied in Syria and several other countries.
She received her JD from Yale Law School, a BA with honors from Georgetown University, and is completing her PhD at Princeton University.
Dr. Fatima Fanusie, a visiting scholar in the Department of History at Johns Hopkins University, treated the public-address audience to the research that informed her fact-filled doctoral dissertation, "Fard Muhammad in Historical Context: An Islamic Thread in the American Religious and Cultural Quilt."
Later someone commented from the podium that she helped exemplify why the weekend's events constituted the best tribute to the Imam.
Imam Rahman Khan, a communications entrepreneur in Charlotte, NC, and key leader in our community's National Young Adult Association, honored his own late beloved father, Ali Khan, during Saturday's iftar.
During the public address the next day, he spoke firmly and clearly of our obligation to the Imam to follow through on his vision. Imam Khan also cited his hope to hear the Imam's widow, Khadijah Mohammed, share with the community regarding his last years.
Capping the weekend in many ways was Wallace Mohammed II, who in his public-address comments described how he began working for his father's ministry right out of high school, and basically never has stopped.
Imam Mohammed long ago affirmed his son's excellent work heading up WDM Publications. Wallace now is president of WDM Ministry and The Mosque Cares.
Yet like his father, he made clear that the emphasis isn't on him but on the model Muslim community that is the focus of Imam Mohammed's vision and legacy.
"I consider Imam Mohammed a moral giant," Wallace told the hundreds gathered for the public address. "This man went above and beyond what was expected of any human being."
He shared numerous anecdotes of times shared with and lessons learned from his father. He also was quick to note: "It didn't take me long to see that this is G-d doing this. Allah makes things happen. He guides us always."
The weekend's highlights also included the premier screening of the finest documentary yet produced regarding the history of Islam in the western hemisphere — Bait-Cal films' aptly titled, "8 Centuries of Muslims in America."
The epic details the arrival of Islam from Africa long before Muslim navigators guided Columbus on his voyages to the new world. With exclusive interviews and historic footage, the documentary traces the Muslim experience past slavery and through the evolution in America, culminating with the unprecedented worldwide impact of Imam W. Deen Mohammed.
The film's producers, a story unto themselves, also were on hand. So were copies of another of their must-have productions: "The Legacy of Imam W.D. Mohammed." That riveting biography, documenting how the Imam revolutionized the understanding of Islam and the image of Muslims here and abroad, is among others available at baitcal.com.
And how could there have been a convention of Imam Mohammed's students and admirers without the presence of the Focolare?
Onstage at the public address were Marco DeSalvo and Paloma Cabetas, the Focolare midwest co-directors, as Imam Mohammed so often invited them, "th share what was on their hearts."
They brought greetings from Focolare leader Maria Voce, who last October, at their center in the papal summer residence in Castel Gandolfo, Italy, devoted a meeting especially to us, Imam Mohammed's students.
Adding to the family reunion atmosphere were other longtime dear friends among the Focolare, such as Jo Ellen Karstens of Chicago.
The Focolare presence confirmed that, despite the physical absence of Imam Mohammed, and their late leader whom he called "the blessed lady" Chiara Lubich, we cannot stop now building our relationship that is shedding so much light for us and others.
There were innumerable other conference highlights, such as Imam Darnell Karim's update on the Imam W. Deen Mohammed Community Center, regarding which further details can be expected.
During the public address, Imam Talib Abdur-Rashid, a guest from New York, fondly recalled his interactions with the Imam. He also cited a sister's quote that he recalled from last year's memorial services for the Imam: "He purified our worship for us."
To that Imam Abdur-Rashid commented: "What a wonderful and lasting tribute."
Another speaker noted that Imam Mohammed saw the need to bring back to American life what was missing, and had the courage to do that. I often think, he added: What if the Imam had not picked up the American flag and established Muslims as protectors of American life?
Similarly, another speaker expressed appreciation to the Imam's students for having been courageous and fearless in supporting him.
In fact, notable comments were heard all weekend. Such as an imam's observation during one of the Ramadan sessions:
"Are we paying as much attention to the education and the cleanliness of the soul as we are to the body? That's what siyam, fasting is really all about…Allah is bringing out that potential by playing down that body for a minute."
And another that continues to resonate:
"With the Honorable Elijah Mohammed and Imam W.D. Mohammed has come an African-American community that is self-authenticating. We do not look to others to authenticate ourselves."
Of course, anyone looking for a perfect conference would have been disappointed. There was the garbled sound system in the main hall  and confused arrangements for the taraweh prayer. At times the iftar dinners for which people bought tickets was barely above institutional fare.
In addition, few concerns were answered in the Collective Purchasing Conference session conducted by David Hassan, as attendees seeking clarity were left wanting in the absence of CPC's Rafi Muhammad. And some off-key notes from the podium prompted Imam Qasim Ahmed to comment in closing the public address that he wished he had time to address them.
As always, there were staffers who seemed not to appreciate how to host and care for Imam Mohammed's followers. In contrast, Imam Elam Muhammad kept the Ramadan Sessions and other programs running smoothly.
The organizing committee should take all the concerns under advisement as constructive criticism. But this was a conference of students of Imam W.D. Mohammed. So by definition the atmosphere was overwhelmingly enlightening.
The inevitable technical, procedural and human frailties couldn't dampen the spirit of those who recognize they are part of what G-d is doing through the guidance granted persons such as Imam Mohammed, son of Sister Clara and the Honorable Elijah Mohammed and follower of the Prophet Mohammed (pbuh).
Imam Vernon Fareed of Norfolk, VA, during his public address remarks, noted that naysayers had predicted Imam Mohammed's community would fall apart after his passing. We have proven them to be wrong, he said.
He went on to thank G-d that the community of Imam Mohammed is alive and well, and to commend The Mosque Cares and the Believers from around the county who supported the convention.
Imam Fareed also referenced the excellent Ramadan Session talk the previous day during which Sheik Ibrahim Pasha of Atlanta asked the hundreds gathered how many were 50 years of age or older. Three-quarters or more raised their hands.
Reinforcing the point, Imam Fareed stressed the need for a stronger effort to have more of our youths present next year because, again, they are our future.
In closing the meeting Imam Qasim Ahmed reiterated Imam Mohammed's instruction, for those who have ears to hear, that problems will subside when our community learns to read the Quran in its original language.
An indication that the community is getting the message: Arabic grammar/tajweed was the single most numerous topic featured in the conference workshops and other sessions.
The Mosque Cares next hosts Savior Day on the last Saturday in February, and next year's Labor Day convention.
In the meantime there is plenty more room for study, work and growth, pruning and fine-tuning.
The 2009 Convention & Ramadan Session not only was a vibrant networking, workshopping and updating conference. It indeed was a "wonderful" human family reunion.
Moreover, the meeting was a celebration and rededication to what Imam Sultan Abdullah of Washington, D.C., at Saturday's iftar, cited Imam Mohammed as giving his students:
I taught you the wisdom and the logic, to know how to apply the Quran and the Sunnah, the example of Prophet Muhammad (pbuh), the Universal Messenger to mankind.
(The article appeared in edited form in the Oct. 23, 2009 Muslim Journal with the tagline: C.B. Hanif is a freelance writer, editor and consultant at cbhanif.com. His InterFaith21 column in The Coastal Star newspaper is being honored this month in the Religion Writing category by the Florida Press Club).