Here are some excellent notes on
"Who are these Unitarians?"
from the  First Unitarian Universalist Congregation of the Palm Beaches' FaceBook page:
Unitarianism was born during the divorce proceedings between Judaism and Christianity in the fourth century. The separation papers were filed with the Council of Nicaea in 325. The divorce was finalized at the Council of Constantinople in 381 with the new doctrine of the Trinity. When Christendom incorporated God, Jesus, and the Holy Spirit as fully equal in the same divinity, Christianity became alienated from the Jewish religion of their past, and with Islam in their future. The acceptance of the triune God was radically different from the monolithic God held by the Jews, some pagans, Unitarians, later Muslims, Baha¡'s and sundry monotheists.
Unitarians were in "the left wing" of the Protestant Reformation. John Calvin, himself, was the prosecutor of Michael Servetus, who was burned at the stake in 1553 for writing "On the Errors of the Trinity."…
[Unitarian Universalists] are able to be receptive of people from so many divergent spiritual and philosophical paths because we have no creeds or doctrines but maintain a covenant of ethical principles….
We have our roots in the teachings of the historical Jesus. As a Jew, he followed up on the Jewish teaching of Isaiah when he proposed "a house of prayer for all people." From those roots we have branched out to become a "multifaith religion ministering in an interfaith world."
— Rev. Steve Aschmann, UU Congregation of Erie, PA.
http://www.facebook.com/notes/first-unitarian-universalist-congregation-of-the-palm-beaches/who-are-these-unitarians/404562385699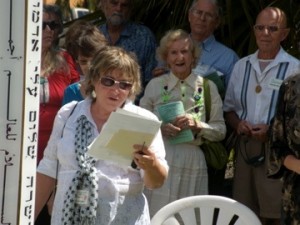 For those who missed it and are interested, I plan to be at the First Unitarian Universalist Congregation of the Palm Beaches, 635 Prosperity Farms Rd., North Palm Beach, FL 33408, for:
The End…..Or Is It?
Interfaith Panel on Death & Dying
"It's hard to make predictions, especially about the future," Yogi Berra famously said. But one thing we all know is that one day, we will die. All religions and spiritual teachings have something to say about death and dying. The late, great Unitarian Universalist minister, Forrest Church puts it this way: "Religion is our human response to the dual reality of
being alive and having to die."
On March 25 you will have a unique opportunity to hear Buddhist, Christian, Jewish, Muslim and Unitarian Universalist leaders share their views on the subject of death and dying in an interfaith panel. The End…Or Is It? could be a new beginning for you. Don't miss it!
The speaker/panelists are:
Brett Ferrigan, meditation instructor and co-director of the Palm Beach Shambhala House. Mr. Ferrigan is a graduate of the Vajradhatu Buddhist Seminary.
• Tom O'Brien, instructor in Theology and Scripture courses at Bethesda-by-the-Sea and other Episcopal Churches.
• Rabbi Barry Silver has served Congregation L'Dor Va-Dor in Lake Worth, Florida since 1998.
• C.B. Hanif, writer/editor, media and inter-religious affairs consultant and longtime member of the Muslim Community of Palm Beach County.
• Reverend Carole Yorke, Visiting Minister First UUPB and a hospice chaplain at Treasure Coast Hospices in Stuart, Florida.
Date: Thursday, March 25
Time: 7:00 – 9:00 p.m.
Place: Sanctuary
Moderator: Marika Stone
For other info go to 561-625-8753,  561-627-6105 or uniuni1@bellsouth.net www.uunpb.org
DRIVING DIRECTIONS
FROM THE SOUTH, driving north on I-95 – 
Take the NORTHLAKE BLVD exit, EXIT 77. 
Turn RIGHT (east) onto NORTHLAKE BLVD/FL-850 E. 
Follow NORTHLAKE BLVD E 1.6 mi 
Turn LEFT (north) onto PROSPERITY FARMS RD. 0.6 mi 
End at 635 Prosperity Farms Rd., North Palm Beach.
FROM THE NORTH, driving south on I-95 – 
Take the PGA Blvd. Exit, EXIT 79. 
Turn LEFT (east) onto PGA Blvd/FL-786. 
Follow PGA Blvd. E. ~2 mi 
Turn RIGHT (south) onto PROSPERITY FARMS RD. ~1.5 mi 
End at 635 Prosperity Farms Rd., North Palm Beach.
— 30 —