It's fair to wonder how much, in communities all over our country, the majority of the Tea Party movement will be focused on his message on this King holiday and going forward.
— From my latest commentary in Florida Weekly.
Read the column here. See the page here. See this week's entire Digital Edition here. Or just keep reading. More MLK Day scenes: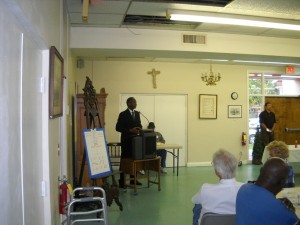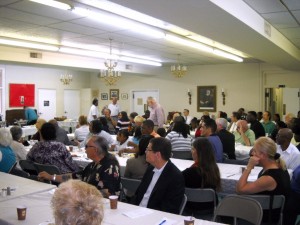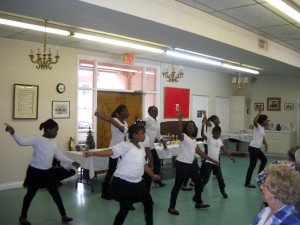 MLK meets the Tea Party?
Jan. 13, 2011
It's long been clear whom the Rev. Dr. Martin Luther King, Jr. was taking about when he said, "We, as a people, will get to the Promised Land."
He meant, "We, humanity."
Not, "Just us black folks."
Dr. King's outlook definitely was more cosmopolitan than a lot of folks — OK, than I — may once have perceived.
The midterm election developments, the incomprehensible tragedy in Arizona and the Jan. 17 federal holiday that bears his name beg the question: What might things be like if Dr. King met the Tea Party movement?
Imagine the good minister assisting Saint Peter on Pearly Gates duty. Dr. King undoubtedly would welcome Tea Party folks into the Promised Land.
That's despite the violent imagery and rhetoric exhibited by some of the movement's members, and which contributes to today's increasingly toxic political environment.
Having long ago gotten out of the judging business — not to mention having learned a thing or two from Dr. King — I too would let 'em in.
But I also would be keeping a close eye on some of these folks.
Like the ones sporting the "Somewhere in Kenya, a village is missing an idiot" buttons.
Or worse, those who think President Obama has a Martian birth certificate.
And the ones carrying the "We came unarmed this time" signs reportedly seen at Tea Party rallies.
Contrast Dr. King and his colleagues, of whom someone wrote, "They accepted, some more perfectly than others, the good news of redemptive nonviolence."
He himself once said, "You are to be praised for your willingness to suffer so creatively," in expressing gratitude to those who routinely risked their lives in communities all over our country to make the American dream a reality.
One such is retired educator Edith Bush, executive director of West Palm Beach's Martin Luther King Jr. Coordinating Committee, which sponsors the most significant King Day activities around these parts.
Her organization will host its annual MLK Breakfast at the Palm Beach County Convention Center on the federal holiday. It's part of the weeklong commemorative activities ranging from oratorical to art competitions, and the year-round, largely youth-oriented programs that the nonprofit sponsors each year.
Ms. Bush not only is a civil-rights movement child of segregated Alabama, whose father was a community activist and president of the NAACP.
She'll be this year's deserving recipient of Palm Beach State College's prestigious MLK Individual Leadership Award, during the college's 12th Annual MLK Breakfast, Jan. 13 on the Lake Worth campus.
This year that breakfast — past speakers have included now-Fox News commentator Juan Williams and the poet Nikki Giovanni — will feature the Rev. Raphael Warnock of Atlanta's Ebenezer Baptist Church. It's there that Dr. King, like his father before him, was pastor when the civil-rights movement leader was assassinated in 1968.
In talking with Ms. Bush I was reminded that Dr. King's experience likely would have had Dr. King casting a wary eye on some Tea Party folks.
Even he, she said, noted that there were times when he and his colleagues had "prayed with one eye open."
So it was encouraging to hear Trent Humphries, a Tea Party movement organizer in Tucson, decry the Jan. 8 shootings that left six people dead and 14 wounded, including Arizona Rep. Gabrielle Giffords.
"We were sickened," Humphries said. "Obviously, we do not condone violence."
There's also been plenty of commentary on elements within the movement accused of promoting bigotry and violence, so I didn't think a professional journalist could speak on the movement and not address that.
So I was surprised New York Times national correspondent Kate Zernike, speaking at the Forum Club of the Palm Beaches about her book, "Boiling Mad: Inside Tea Party America," did not mention racism. Only following her remarks did she respond to questions about bigotry.
My guess is the perspective at 125th Street and Lenox in Harlem might skew a bit differently from what Ms. Zernike called her suburban New York City neighbors.
But hey, it's she who did the research, and wrote the book, and I did learn a few things. Such as her premise that the movement's two main wings are 1) younger, Libertarian-type voters, and 2) older supporters of President Bush and our military presence in Afghanistan and Iraq.
She also seemed on to something in saying the movement has served as an outlet and reaction to the economy and to change — whether a president of African-American descent, gay or immigration issues or the House of Representatives' first female speaker.
It's all a transient phenomenon, says Nevada Sen. Harry Reid, who just defeated Tea Party-backed Sharron Angle for reelection.
"The Tea Party will disappear as soon as the economy gets better" he was telling NBC's "Meet the Press" the other day. "And the economy's getting better all the time."
It's safe to say that economic relief is one thing most Americans desperately want.
But we need more mutual respect during the vigorous policy debates on how to get there.
Fewer slogans of anger and fear that promote hatred and violence toward one's fellow countrymen.
We honor Dr. King in part for helping our nation transmute bigotry through his eloquent language and example of forbearance and unity, if not love.
It's fair to wonder how much, in communities all over our country, the majority of the Tea Party movement will be focused on his message on this King holiday and going forward.
If the Tea Party was manning those Promised Land gates, could Dr. King — or the guy with the model family who allegedly is AWOL from Kenya — get in?
— C.B. Hanif