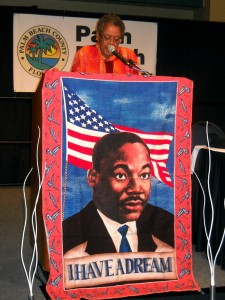 New Africa of the Palm Beaches' Model Dialogue series kicks off Sunday, Jan. 23, 2-4 p.m. with: "From King to…Cosby?"
A forum on whether African-America's glass is half-empty in light of Dr. Bill Cosby's recent controversial comments. Specially invited to share unique perspective: Edith Bush, executive director of the Martin Luther King Jr. Coordinating Committee, 2011 recipient of Palm Beach State College's prestigious MLK Individual Leadership Award.
Sunday, Feb. 20: "Where El Hajji Malik el-Shabazz was heading…"
On the anniversary of the assassination of Malcolm X, Imam Jaabir Muhammad shares unique insight from the days of the original Nation of Islam to our current day.
Sunday, March 20: "Constantine's Sword"
James Carroll's compelling documentary exposes the religiously inspired violence and intolerance discovered during his personal search for a better future.
Sunday, April 17: NAPB's  10th Annual Family Interfaith Picnic
(Dyer Park, West Palm Beach. More details to come.)
All Programs 2-4 p.m. at
The United Methodist Church of the Palm Beaches
900 Brandywine Road, West Palm Beach 33409
Moderator: C.B. Hanif, multimedia journalist
No admission fee; donations accepted
Join our gatherings featuring remarkable cultural diversity and exemplary models for interaction and cooperation.
Directions from I-95: Exit #71 west onto Palm Beach Lakes Blvd. Turn right at third traffic light and left at stop sign. UMCPB is on left. Room #115. More information call 561-309-5476.