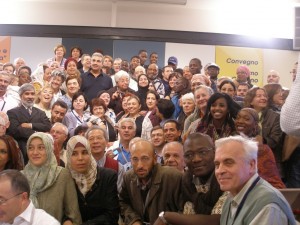 Sunday, June 27, 2-4 p.m., United Methodist Church of the Palm Beaches, 900 Brandywine Road, West Palm Beach.
"Religions, with all their differences, are being called on to come together as never before." — Cardinal Francis Arinze, president of the Pontifical Council for Interreligious Dialogue
"The Principle of Love, taken from the message of Jesus Christ, is an idea we embrace totally, and anybody can embrace totally." — the late Imam W. Deen Mohammed
Former Palm Beach Post writer/editor C.B. Hanif moderates a video and discussion on the perennial "International Meeting of Muslim Friends of the Focolare" in Italy.
Featured on the panel are Mercedes Mont and Martin Alfaro of the Focolare Movement, and Aneesha Hanif, president of The International League of Muslim Women's South Florida Chapter.
A focal point is the Hanifs' travel to Castel Gandolfo as guests for the remarkable interfaith unity gathering from dozens of countries.
This forum follows the Interfaith Clergy Committee's annual Institute Day program ("Promoting Civil Discourse in a Polarized Nation: People of Faith Respond"), and the 9th Annual Family Interfaith Picnic hosted by New Africa of the Palm Beaches in West Palm Beach.
Since 1977, fruitful contacts between Christian members of the Focolare Movement and members of other religions have multiplied, based on the "Spirituality of Unity" of the Focolare, who mirror the life of the first Christians — in love for our Creator, and in mutual love with all.
Over the decades, the Focolare's "Spirituality of Unity" has resonated with friends in 183 countries. Particularly among our Muslim community here in the U.S., the dialogue has sparked a dynamic, devoted and loving relationship, and initiatives of collaboration.
Journey with us as we seek to learn about each other rather than define or convert each other, learn to be the first to love the other, and develop this excellent model for Interreligious dialogue, interaction and cooperation.
No admission fee; donations accepted.
Organized by New Africa of the Palm Beaches and the Focolare of South Florida. For more information call 561-309-5476.