I'm thanking our Maker for the Rev. Andrew Sherman and his St. Gregory's Episcopal Church congregation of Boca Raton, for Rabbi David Steinhardt of the nearby B'nai Torah Congregation, and for all who gathered for last night's "Children of Abraham" event to which I was invited to speak.
The evening's wonderful spirit seemed to me a tremendous tribute to Rev. Sherman's stewardship, to his and Rabbi Steinhardt's G-d given warmth, wit and wisdom, as well as to the quest for understanding and unity among those present.
Thanks again to all who, after the program, shared your kinds words of encouragement, unity and love. Insha'Allah — G-d Willing — we'll meet again soon.
Meanwhile I promised to a link to Lesley Hazelton's wonderful TED video, "On reading the Koran," the subject of my previous post.
Enjoy. Peace & Blessings. More St. Gregory's scenes: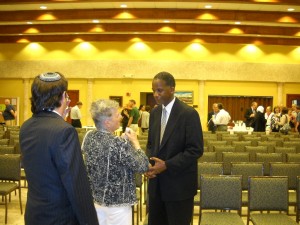 — C.B. Hanif