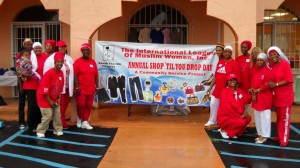 Undoubtedly the best example in Florida — and among the best around the world — of Muslim and Christian women volunteers together serving women in need, took place again Saturday as The International League of Muslim Women hosted its "4th Annual Shop 'Til You Drop Day."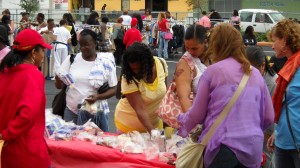 The event is one of innumerable annual community service projects of the non-profit organization that was founded in 1981, and has members in nearly 30 chapters in the U.S. or abroad in places such as Ghana and Senegal.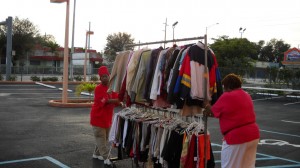 Here, the local chapter's annual "Shop 'til You Drop Day" provides — at no cost — much-needed personal items for women living in homeless shelters, battered women's houses, or in shelters for recovery from addiction.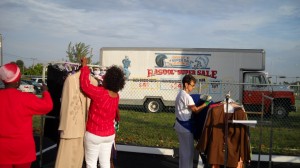 In coordination with those facilities, the women receive $50 gift certificates that are used to purchase donated new and "gently used" personal items — clothing, shoes, handbags, scarves, jewelry, toiletries, books and even children's clothes.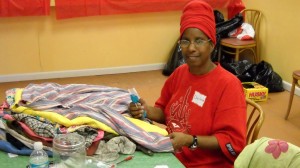 In October the volunteers began spending their Saturdays pricing and tagging the items contributed by individuals, businesses and other organizations. Among this year's notable contributions was a box of Coach handbags.
I'm honored to acknowlege that my wife Aneesha is president of the South Florida chapter that spans Palm Beach, Broward and Miami-Dade counties. Most of the chapter's activities take place in Miami, which has the most participants. For the second consecutive year, "Shop 'Til You Drop" was hosted on the parking lot of Masjid Ibrahim — or the Abraham Mosque — on 7th Avenue in Miami.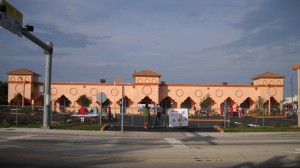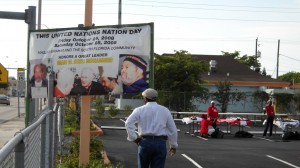 In Palm Beach County, league members also have been key to the success of an annual interfaith picnic set soon to enjoy its ninth year.
They also were featured for a panel discussion entitled, "And Now, A Word From Muslim American Women," hosted by the First Unitarian Universalist Congregation of the Palm Beaches. (See photos on the 1stUUPB Facebook page.)
The local league participates in myriad other interfaith activities such as with the Focolare, and the Delray Beach Interfaith Clergy Association's first Interfaith Friendship Dinner.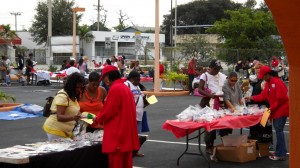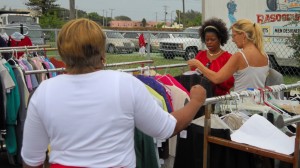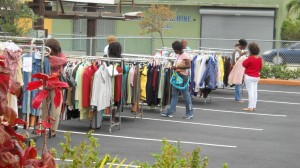 Nationally, these ladies, most students of the late, eminent, Imam W. Deen Mohammed, not only partner with but are members of other social service groups such as the Delta Sigma Theta and Alpha Kappa Alpha sororities, as well as organizations and agencies not specific to women.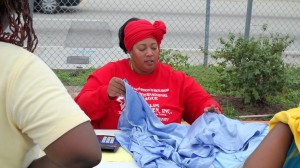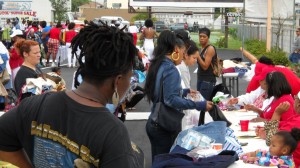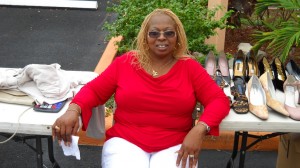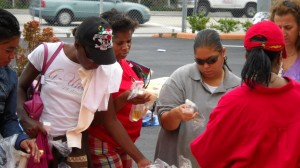 The league's annual conferences are attended by hundreds of women wearing their trademark red-and-white, plus their friends of all stripes including a few fortunate husbands.
Recent conferences included this year's in Jackson, Miss., two years earlier in Baltimore, MD, and in between, the one hosted by the South Florida Chapter at the Doubletree Resort on Sunny Iles beach in 2008.
There's still a buzz among members about that meeting, which included pre-dawn prayer on the beach, a walk along or splash in the ocean at sunrise (don't even think of telling these ladies that Muslim women can't have fun), followed by workshops and other programs leading up to their banquet. The meeting also featured a Bahamas day cruise and a Friday night fish fry at Miami's Masjid Al-Ansar. Their 2010 conference is scheduled for Atlanta.
A staple activity of many league chapters is an annual "Grandmother–Mother–Daughter Luncheon," during which members often honor pioneering women or outstanding students. Various chapters including South Florida's perennially conduct winter blanket or coat drives for those in need.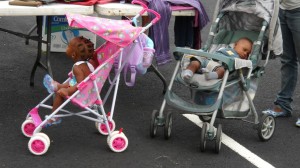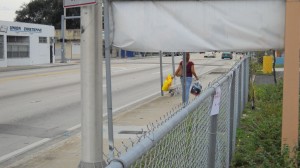 By my count, nearly 300 women benefited from the local league's charitable work, on a morning when the rains held off until the proverbial good time had been had by all. The evidence was in the smiles and words of gratitude from the beneficiaries — and the tired but happy interdenominational volunteers.
So congratulations and a "You Go Girls!" to the South Florida Chapter's president, to Hanan Ali, the chapter's vice president, to Alia Pasha, who chairs the chapter's Social Service Committee, and to the other league members, volunteers and participants, for your highly commendable "4th Annual Shop 'til You Drop Day."
We trust our Maker to bless all your efforts of good.