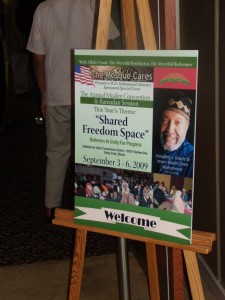 Continuing with the Ramadan theme during these 30 days of the Muslims' month of fasting, I'm sharing a few of the words and a lot of the photos, in this and subsequent posts, from two institutions established by the eminent late Imam W.D. Mohammed's The Mosque Cares ministry: 1) the annual Muslim Convention and 2) the annual Ramadan Session.
This year the two are combined, given Ramadan's arrival this year during the convention's traditional Labor Day weekend time.
The convention theme is "Shared Freedom Space…Believers in Unity for Progress."
That theme reiterates Imam Mohammed's emphasis on fulfilling our shared responsibilities of American citizenship.
It also echoes the Imam's unprecedented work in building relationships with myriad individuals and organizations that also are engaged in serving our Creator
What follows is from the Holiday Inn Select Convention Center outside Chicago, IL.
SCENES OF DAY 1, Thursday September 3, 2009.
x