… in our Great, Wide, Beautiful Diversity World.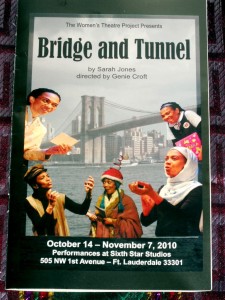 It actually started the previous evening with the Omega Psi Phi Fraternity, Kappa Upsilon Chapter's Fifth Annual Formal Masquerade Ball at Benvenuto restaurant. We were present at the charity fundraiser to support dear Mr. James Jefferson, whose late wife Freddie "Stebbins" Jefferson (Feb. 1, 1936 – Oct. 27, 2007), my stellar former Palm Beach Post colleague, continues to light our lives.
All day Saturday was the South Florida Diversity Alliance's annual Diversity Summit at Nova Southeastern U., this year themed, "One Tribe, One Planet." Amid myriad other sessions, I was honored to present on "Models for Interfaith Dialogue & Unity," and serve as moderator for a two-parter on immigration policy, organized by my Catalyst for Justice colleague Jane Tierney, titled "Is Florida the Next Arizona?" More on C4J to come.
As wonderful as all that was, for me the highlight was seeing our superbly talented friend, professional actress Karen Stephens, starring in "Bridge and Tunnel," a Women's Theatre Project production. The play, with Karen's masterful portrayals of 14 different characters, personified our nation's and our human diversity. Please, please, break a leg to catch one of the closing performances through Nov. 7. It'll do body, mind and soul great good.
During his 1999 Vatican address, part of the Interreligious Assembly of more than 20 different spiritual traditions, "America's Imam" and my imam, W. Deen Mohammed (Oct. 30, 1933 – Sept. 9, 2008), said that:
"G-d has made things different, human beings too, because G-d wants unity to progress. The diversity is to provide the unity with legs, with wheels, with movement for more progress. G-d said, He had made us humanly different by color, by nationality, to encourage us to walk together, and get acquainted with each other, to have peace and unity."
With thanks again to the Benevolent Maker of all, here are some more scenes that illustrate the point:
— C.B. Hanif