My latest InterFaith21 offering in The Coastal Star:
Deborah Lee Prescott is a Christian, who teaches at Palm Beach Atlantic University, a Christian college, but whose passion is to study the memoirs and autobiographies of
Jewish victims of the Holocaust.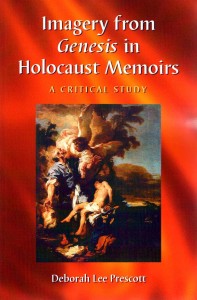 From The Diary of Anne Frank to Elie Wiesel's Night, many people are familiar with such books.
But Prescott, in her new book, Imagery from Genesis in Holocaust Memoirs, surveys more than 50 different autobiographical accounts, from different parts of Europe, written by Jews who observed various degrees of religious practice — devout, orthodox, or with
nominal or no connection to their Jewish heritage — all of whom were persecuted for being Jews.
Prescott said she noted a fascinating pattern of biblical images among the writers' experiences in the context of the modern day Jewish Holocaust and Nazi persecution.
She'll be talking about it all during a Nov. 13 reception at the Cenacle Sisters Retreat, 1400 S. Dixie Highway in Lantana.
For example, she said "Paradise Lost, Innocence Lost," her first chapter, "contextualizes people being taken away from their homes, people being forced to leave their communities, even forced to leave their nations, through an allusion to Adam and Eve, the Fall, being kicked out of the garden of Eden.
"It also deals with images of nakedness: People talked about losing their clothes when they come into the concentration camp system. So that's all tied up with images of some of the very first stories in Genesis."
Another chapter, titled "God's Ark and Hitler's Cattle Car," draws on a reference from an autobiographer "who talked about being in a cattle car, being transported to the concentration camp." It illustrates one of the paradoxical inversions she found, in this case an inverted Noah's ark: "People on the ark were being preserved, they were being saved, while the Nazis gathered people to kill them."
Regarding her "The Babel of Extermination" chapter, Prescott said the Tower of Babel image "is the most common image I've seen in Holocaust autobiographies." She described "the confusion, with every language under the sun being contained within these concentration camps, and the stress that it causes, the division." There I heard echoes of the African Holocaust — in which language divisions were used to separate human beings in captivity before and during a brutal trans-Atlantic passage, and to further divide them in chattel slavery.
A chapter on "The Perversity of Silence" examines the image of Abraham asked to sacrifice his son. In a context drawn primarily from Elie Wiesel, she talks of "how fathers had to leave their sons to the concentration camps, and metaphorically, also mothers had to leave their daughters."
"Fratricide," the last chapter, considers several autobiographers, "mainly a Dutch man who is looking at the Cain and Abel story," she said. "And the Holocaust shows us that even though it's Nazis killing Jews — among many other people that they persecuted, but single-mindedly the Jews — ultimately this is brother killing brother."
Prescott recently toured major concentration camps in Poland with a group from the U.S. Holocaust Memorial Museum in Washington. "I look at the Holocaust and I see what hate can do," she said. "So I think the only way we can trample out this hate is to communicate and talk to one another."
I agree with her that folks might be surprised by how much the insights in these autobiographies can teach us. For me, a "graduate" of Tom O'Brien's Hebrew Books and New Testament classes over at Bethesda by the Sea, Prescott's scholarship is another great contribution.
***
Deborah Lee Prescott will discuss her new book, Imagery from Genesis in Holocaust Memoirs, during a Nov. 13 reception, 7 to 9 p.m.
at the Cenacle, 1400 S. Dixie Highway.
No admission is charged, space is limited. Call the Cenacle Sisters, 561-249-1621, or e-mail srplane@juno.com.
— C.B. Hanif