A reprise of my piece published in the Muslim Journal Sept. 24 seems apropos in light of Maj. Joseph Bernadel's talk upcoming Sunday:
The January 12, 2010 earthquake near Port-au-Prince, Haiti devastated an already impoverished, exploited and neglected nation.
In making sense of incomprehensible loss, many people, once again exhibiting the indomitable Haitian spirit, took solace in the remembrance that the mercy of our Creator precedes the wrath of our Creator; that the blessings promised by our Maker are beyond our ability to imagine; and that the promise of the Almighty is true.
Six months later came one such blessing: the appointment of retired U.S. Army Maj. Joseph Bernadel to the Interim Haiti Recovery Commission. The IHRC will oversee implementation of the Government of Haiti's Action Plan for National Recovery and Development.
Maj. Bernadel also is widely loved for crowning an already distinguished career by co-founding the Toussaint L'Overture High School for Arts and Social Justice in Boynton Beach, FL. He and the charter school with its large population of students of Haitian descent have received innumerable recognitions for preventing youth delinquency and promoting academic excellence.
Following the earthquake, however, Maj. Bernadel's honorable service escalated with even more trips to address needs in his native Haiti. Now he also has been called to serve as permanent representative and envoy for the Haitian Diaspora.
Amid all of this an imam in West Palm Beach, FL recently received a telephone call out of the blue from an imam in Columbus, GA, saying his community had seen the suffering in Haiti, and wanted to help.
Imam Yahya Islam said the Muslims of Masjid Al-Nur were collecting new and nearly new clothing and other items for Haiti relief. He would be bringing them as soon as he had gathered a truckload, and wanted to know where best to deliver them.
Not surprisingly, the destination became Toussaint L'Overture, an official relief dropoff location just a few miles further south along I-95, where Maj. Bernadel, chief operating officer, had just returned again from the Caribbean country.
Nor was Maj. Bernadel surprised to hear of the phone call from Georgia. He already had heard one of the local imams proclaim, during a Feb. 18 Haiti Memorial Service at nearby Atlantic Community High School, that G-d tells humanity in the Quran: Do not think of those who have been taken in G-d's way as dead; they are alive, but you perceive it not.
Speaking along with other interfaith leaders, the local imam had cited his friend, a rabbi, who had predicted that one positive outcome of the catastrophe is that Haiti will be rebuilt better than ever. The imam added that such an outcome will require an ongoing effort, and called on those present to keep the focus on Haiti long after the cameras and other media had gone on to their latest fascination.
Those gathered for that Delray Beach memorial service — including local and state elected officials, and legislators just arrived from Haiti — also heard the imam play, from a CD, the late Imam Rasul Madyun reciting verses of the Quran, along with an English translation.
Maj. Bernadel, who followed the imam to the podium, responded, "Thank you Imam, this was very, very nice and we really appreciate that. It does a lot for our heart in this our hour of need. Thank you so much."
Muslims and others may appreciate a heartwarming comment the major later expressed:
"Imam, listening to that verse in the Quran, spoken in that manner, makes me feel the desire to learn Arabic. Because in the sonority of the word, even though we don't understand, it vibrates with our DNA, even though we don't understand it."
When the imam subsequently shared that the reciter, Imam Rasul Madyun, was barely in his prime when also unexpectedly taken from this life for reasons known best to the Maker of all, and that the beloved young imam is sorely missed by our community, a deep empathy, mutual appreciation, friendship and unity was forged.
Thus when Imam Yahya Islam of Columbus, GA, and Haiti native Maj. Bernadel met, it was on a level of deeply shared human compassion. Soon Toussaint L'Overture students were unloading boxes from the U-Haul truck the imam had driven from Georgia. But not before Imam Islam was given a deluxe tour of the school by Maj. Bernadel and its co-founder, Dr. Diane Allerdyce.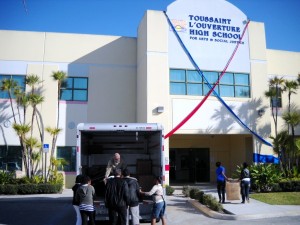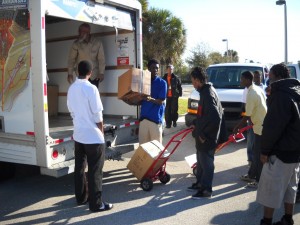 Imam Islam also learned of the excellent work of Toussaint L'Overture's students, of conditions in Haiti and of the great history of the Caribbean nation, from the dignified gentleman who now will lend even greater service on its behalf.
Major Bernadel pointed, for example, to a photograph that symbolized the Haitian people's independence: the statue of a man, his chains broken, sounding with a conch shell the call to freedom. He explained that the statue was unscathed by the earthquake while everything around it had been destroyed or damaged, including the National Palace in front of which it stood.
"I thought it was really excellent," Imam Islam said regarding his reception by Maj. Bernadel and the other folks at Toussaint L'Overture. "That really made my trip, to see the appreciation and the happiness and smiles on the faces of the people. The whole reception was just really worth the trip within itself, just to see that response they gave, the appreciation."
In describing what had motivated him and the Masjid Al-Nur community to gather and deliver their relief items, Imam Islam said:
"Basically, I saw a need as a citizen of this country and definitely as a Muslim. I thought as Muslims we should definitely help our neighbors, our world neighbors, our people in need. And basically as we help them, Allah will help us. That's really what was the motivation — seeing the need and being able to address the need."
The mutual humility in the gesture and its reception deserves attention from the rest of us. Not just for its example. But also because, in a nation where people have failed to know each other as they should, the thought of a Muslim driving a U-Haul truck along I-95 still can conjure up fear.
Just days earlier, for example, a local newspaper had published an ill-informed letter writer's comment that Muslims were glaringly absent from helping the people of Haiti. The letter's inherent mean-spiritedness was exceeded only by its ignorance and that of the editors in publishing it.
In fact, from the beginning of the catastrophe, numerous Muslim organizations and mosques had actively participated. Individual Muslims, moreover, had donated to relief efforts as varied as the International Federation of Red Cross and Red Crescent Societies, and the Clinton-Bush Haiti Fund publicly championed by First Lady Michelle Obama.
The worst kind of ignorance, of course, is when you think you know. For newspaper editors to continue to promote the arrogance of ignorance, however, is particularly ham-handed in this era of Google.
For his part, Imam Islam wasn't looking for headlines. He and his community were just looking to serve their fellow human beings. It's what his faith, and the spirituality of so many other people, even folks who claim no particular faith, calls them to do.
The story of the major and the imam reveals another of those random acts of kindness that, like the best of charity, flies under the radar.
Or in this case, drove.
— C.B. Hanif